Synopsis:

A family of foxes try to outsmart a group of farmers who are trying to wipe them out for eating their livestock.
What You Need To Know:

Wes Anderson takes a creative left turn into the world of stop-motion animation with an adaptation of the delightful
Roald Dahl
kids novel, and brings along old friends to do the voices (

Cate Blanchett, Bill Murray, Jason Schwartzman, Anjelica Huston

), plus adds a few new ones to the fold, too (

George Clooney

). Co-written with filmmaker Noah Baumbach ('

Life Aquatic

') and with songs being written by Jarvis cocker (

Pulp

), this kid-friendly flick could turn out to be the highest grossing one of Anderson's career.
Release Date:

November 6, 2009
"The Tree of Life"

– Summit Entertainment - Dir.

Terrence Malick
Synopsis:

The story of a family who must come to terms with a devastating loss. In doing so, they discover life's most important lessons of unselfish love and forgiveness.
What You Need To Know:

Malick is back again as writer and director with this long-gestating project of over 30 years. He has reunited with Cinematographer

Emmanuel Lubezki

and legendary Production Designer

Jack Fisk

, the same team who brought us "

The New World

" in 2006. The epic traces the evolution of an eleven-year-old boy named Jack growing up in the midwest during the 1950's.

Sean Penn

plays the adult Jack while

Brad Pitt,

in a role originally intended for

Heath Ledger

, plays the boy's father.

Jessica Chastain

(pictured) plays the mother, with

Fiona Shaw

and

Jennifer Sipes

also starring. Given Malick's track record of making meditative, naturalistic, and down right stunning films, one can assume that we'll have plenty to admire with this one.
The composer of 'Benjamin Button' is also writing the music.
Release Date:
Fall 2009.
"

Inglourious Basterds

"

– Weinsteins/Universal - Dir.

Quentin Tarantino
Synopsis:
An elite team of Jewish American soldiers in WWII take on a covert mission to kill Adolf Hitler, but unbeknownst to them, the daughter of a slain French farmer is planning her own revenge.
What You Need To Know:

Tarantino's war film is epic and could be one of the most outrageous WWII films ever made, not to mention his possible masterpiece, if he doesn't fuck up his brilliant and audacious script. Pitt leads an eclectic, motley crue cast that features many foreign newcomers (

Melanie Laurent,

Jacky Ido

,

Christoph Waltz

), old school actors (

Cloris Leachmen, Rod Taylor

), American comedians (
BJ Novak, Samm Levine

)
and bold faced names (

Diane Kruger, Mike Meyers

) many, many others.
Release Date:

August 21, 2009

.

It could show up at Cannes if completed in time.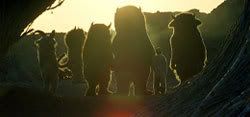 "Where The Wild Things Are" - Warner Bros. - Dir. Spike Jonze
The long-awaited adaptation of Maurice Sendak's beloved children's novel might be the most highly anticipated film of all of 2009 and perhaps the most discussed and poured over. Starring 9-year-old newcomer Max Records and voiced by James Gandolfini, Lauren Ambrose, Catherine O'Hara and Forest Whitaker among others, the 'Wild Things' film, co-written by author Dave Eggers, had an extremely difficult and tempestuous birth, the battles of which spilled out into the public. Taking three years to make (not counting pre-production), an early 2008 test screening was so controversial, rumors swirled the film was going to be recut and or taken away from Jonze. The gossip turned out to be semi-true, but WB and the filmmaker got over their quarrel and the melancholy children's film could potentially be destined to become a classic.

Yeah, Yeah, Yeah's

singer

Karen O

is on music.
Release Date:
October 16th, 2009
"
The Limits of Control
" – Focus Features - Dir.
Jim Jarmusch
Synopsis
: The story of a mysterious loner who operates outside the law in Spain.

What You Need To Know
: In typical
Jim Jarmusch
fashion, his next project is flying pretty under the radar. However, the film stars Jarmusch favorites
Isaach De Bankolé
,
Bill Murray,
and
Tilda Swinton
.
John Hurt
and
Gael García Bernal
are also involved. Shooting in Spain - Seville, Madrid, and Almeria, specifically celebrated cinematographer
Christopher Doyle
lenses, and the
the title may or may not have a connection to a

William Burroughs

' essay.
An indie rockstar, Jarmusch's work is thoroughly uncompromising, understated and postmodern cool. Expect more plot information to surface as the film gets a release date. Nothing yet, but Jarmusch has a history at Cannes and this sounds like a festival release all the way.


Release Date:

May 22, 2009 (limited)


Honorable Mentions:

"

Bad Lieutenant: Port of New Orleans

"

– N/A - Dir.
Werner Herzog
Synopsis:
Werner Herzog and

Nicolas Cage

finally team up.

"

A Serious Man

"

– Focus Features - Dir.

Coen

Brothers

Synopsis: A Midwestern professor in 1967 watches his life unravel when his wife prepares to leave him because his inept brother won't move out of the house.

"

The

Hurt Locker

"

– Summit Entertainment- Dir.

Kathryn Bigelow



Synopsis

: An intense Iraq war drama that borders on action film, it focuses on an elite Army bomb squad unit defusing explosives in the middle of the chaos.

"

Public Enemies

"

– Universal - Dir.

Michael Mann




Synopsis:

Notorious American gangsters John Dillinger, Baby Face Nelson and Pretty Boy Floyd, take on the Feds in the 1930s.

"

The Road

"

– Weinstein Company - Dir.

John Hillcoat
Synopsis:

A father and son try to survive a post apocalyptic world full of desperate scavengers and day-of-reckoning cannibals.

"

Adventureland

"

– Miramax - Dir.

Greg Mottola
Synopsis:

On the verge of college, an erudite middle class teenager has to trade in his European summer dreams for a soul-crushing job at an Adventureland in Long Island.

"

Broken Embraces

" - Sony Pictures Classics -

Pedro Almodovar




Synopsis

: A four-person love story that "touches on many genres," including thriller.



There are plenty of high profile and independent films this year that look spectacular. Please let us know what your top five are!!!


-Billy Gay Cyrus